Founded in 1996 by, champion of the arts and creative entrepreneur, Trudy Van Dop
After years of running traditional gallery spaces, Van Dop made the move to challenge the austere environment art is often presented in by opening the doors of Canada's only home gallery.
A converted heritage home where Trudy lived with her husband and four children became a unique showroom, transforming the experience of viewing art and allowing clients to experience the artwork as they would in their own homes – as a part of their everyday lives.
Exemplifying the Art of Living, the now-iconic Van Dop Gallery bricks and mortar showroom has received multiple awards for its unique concept and emphasis on bringing contemporary art into a familiar, intimate setting.
Viewing art in the home is a transformative experience. Gallery visitors enjoy the missing ingredient in traditional gallery viewing – hospitality.  In this one-of-a-kind, conceptual space visitors have the opportunity to experience art in its rightful place and envision the original works of art adorning their own walls and spaces.
Van Dop Gallery exhibits a curated multi-collection of contemporary artworks by Canadian artists in-house and online with seasonal exhibitions happening throughout the year.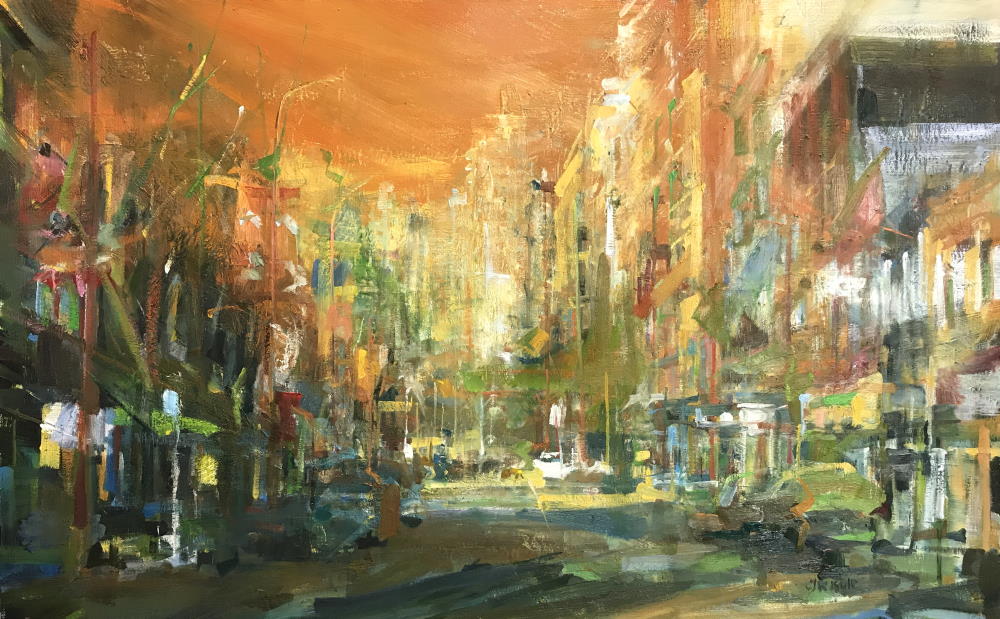 "Leanne M. Christie is a contemporary Vancouver landscape painter. Reductive and flirtatious brushwork entices the viewer to regard the familiar with a new vision. Christie's treatment of everyday landscapes transform city streets and shipping containers into an ephemeral scene with a temporal essence, notated by her careful and suggestive brushwork. Christie's hand suggests rather than commits to imagery, creating an illusory and seductive space to be drawn into again and again.
Straddling the line between elite artistry and accessibility, affordability makes collecting Christie's work now a smart investment. In the gallery, her work moves quickly. If you see a piece you are interested in, contact us today to book a private viewing."